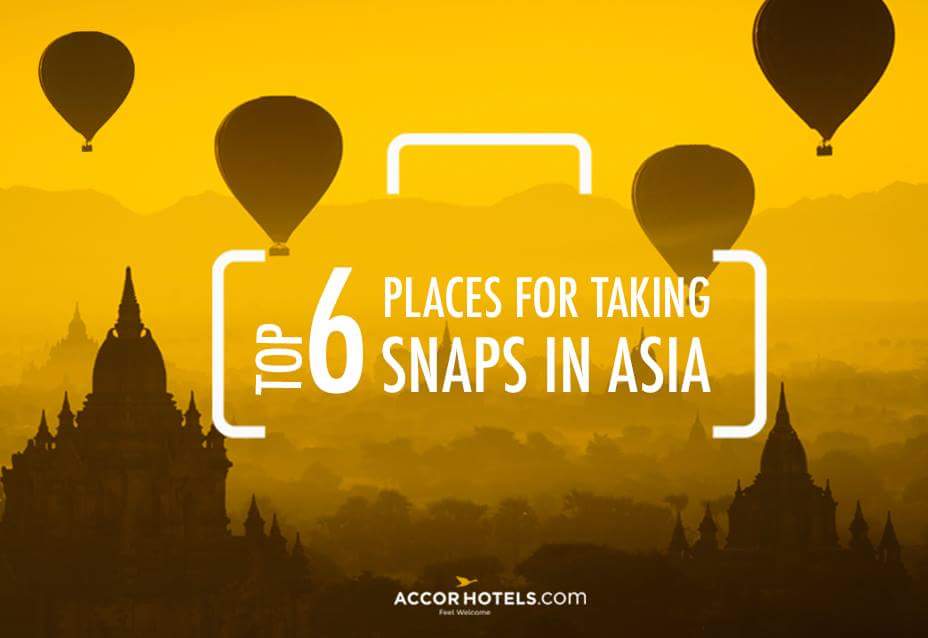 ACCOR HOTELS - "TOP 6 PLACES FOR TAKING SNAPS IN ASIA"
What's more exciting than taking photos of balloons? Taking photos of them on a balloon! Located in the middle of Myanmar, Balloons over Bagan is the highlight of this dreamlike city that will give you a chance to take great panoramic photos over the pagodas of Bagan.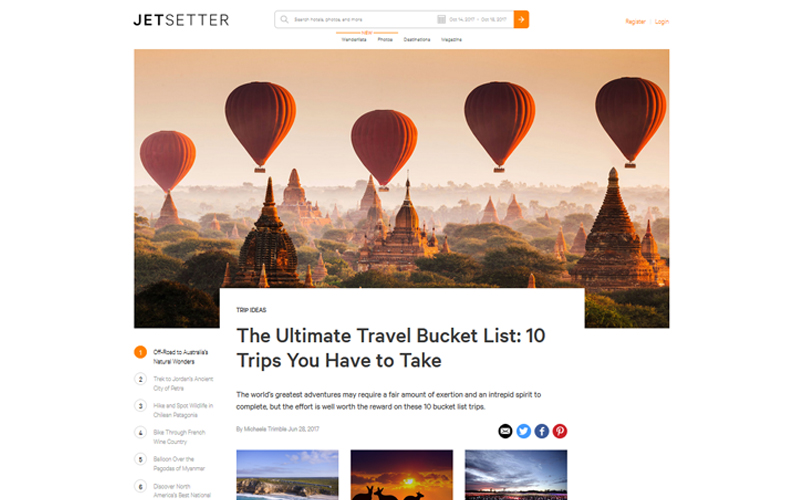 JETSETTER - "THE ULTIMATE TRAVEL BUCKET LIST: 10 TRIPS YOU HAVE TO TAKE"
The world's greatest adventures may require a fair amount of exertion and an intrepid spirit to complete, but the effort is well worth the reward on these 10 bucket list trips.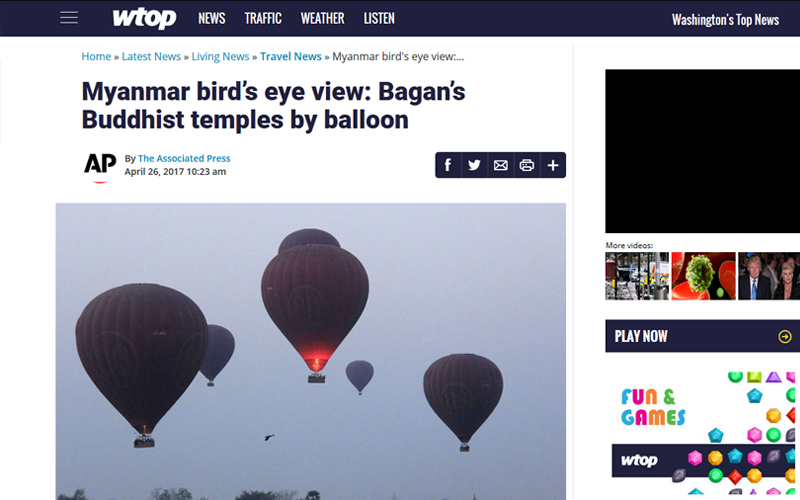 THE ASSOCIATED PRESS - "MYANMAR BIRD'S EYE VIEW: BAGAN'S BUDDHIST TEMPLES BY BALLOON"
Within seconds, our hot air balloon was floating above the treetops, gliding toward what Marco Polo called "one of the finest sights in the world" when he saw it 700 years ago: the ancient Myanmar city of Bagan.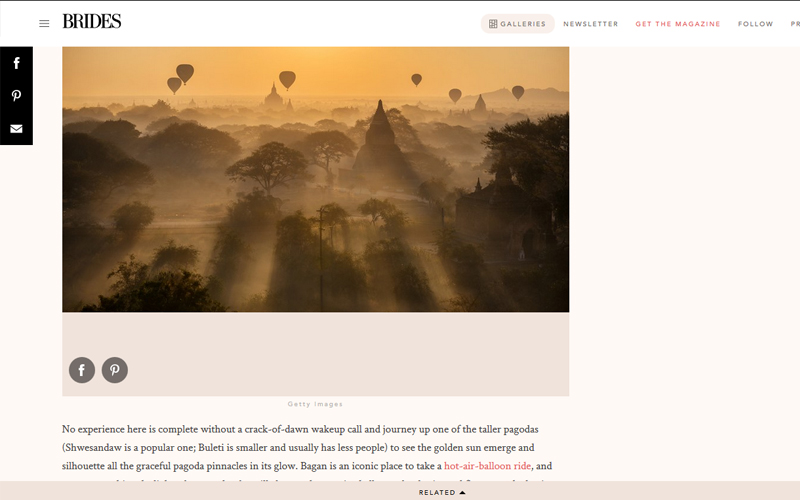 LAKES, TEMPLES, AND SPECTACULAR SUNSETS: AN IDYLLIC HONEYMOON IN MYANMAR
Bagan is an iconic place to take a hot-air-balloon ride, and anyone watching daylight take over the sky will also see the massive balloons slowly rise and float over the horizon. If there's one splurge that's absolutely worth it, it's one of these rides. Balloons Over Bagan is an excellent provider, and while it's far from cheap, it will leave a lasting impression. Stay in New Bagan Blue Bird boutique hotel, where you can book a private, romantic dinner hidden away in a quiet corner of the property.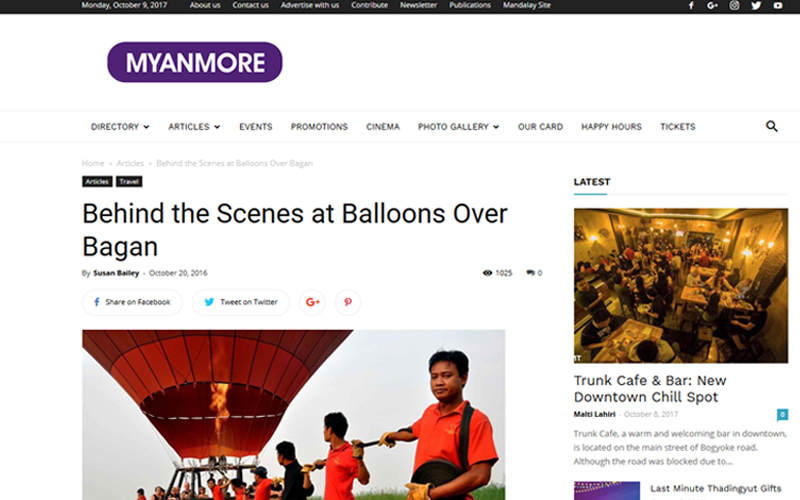 MYANMORE - "BEHIND THE SCENES AT BALLOONS OVER BAGAN"
October's the month Balloons Over Bagan take to the skies of Bagan for the 18th year. The photos are iconic and, although the prices are notoriously high, the feedback is unanimously superb. Thousands of tourists a year are privileged to enjoy this experience yet few people realize what goes on behind the scenes. Myanmore sits down with the staff of Balloons Over Bagan (BOB) to see what it takes to run a ballooning operation in Myanmar.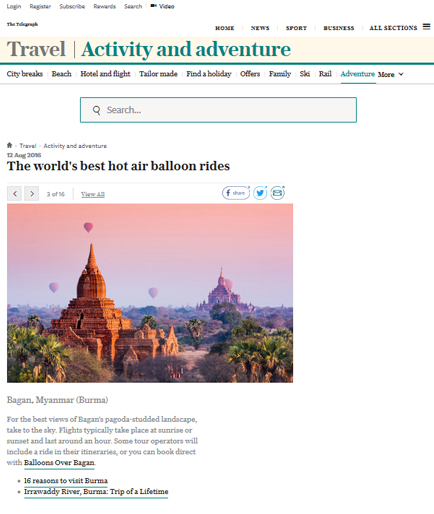 THE TELEGRAPH - "THE WORLD'S BEST HOT AIR BALLOON RIDES"
For the best views of Bagan's pagoda-studded landscape, take to the sky. Flights typically take place at sunrise or sunset and last around an hour.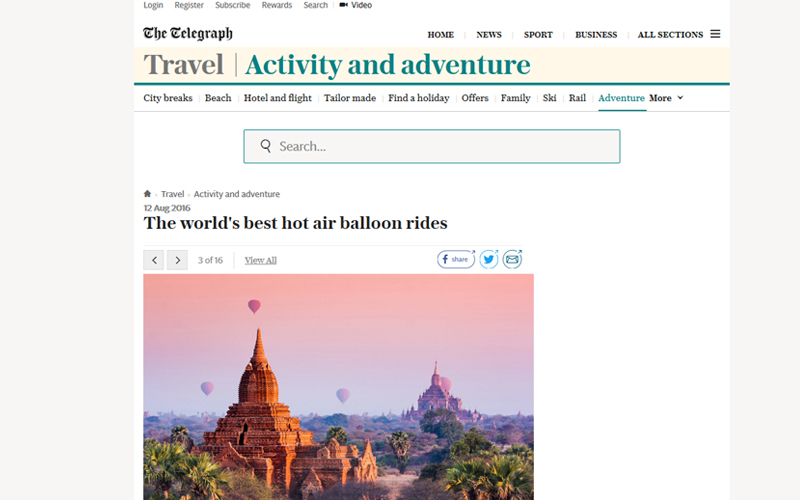 TELEGRAPH UK - "THE WORLD'S BEST HOT AIR BALLOON RIDES"
For the best views of Bagan's pagoda-studded landscape, take to the sky. Flights typically take place at sunrise or sunset and last around an hour. Some tour operators will include a ride in their itineraries, or you cann book diret with Balloons Over Bagan.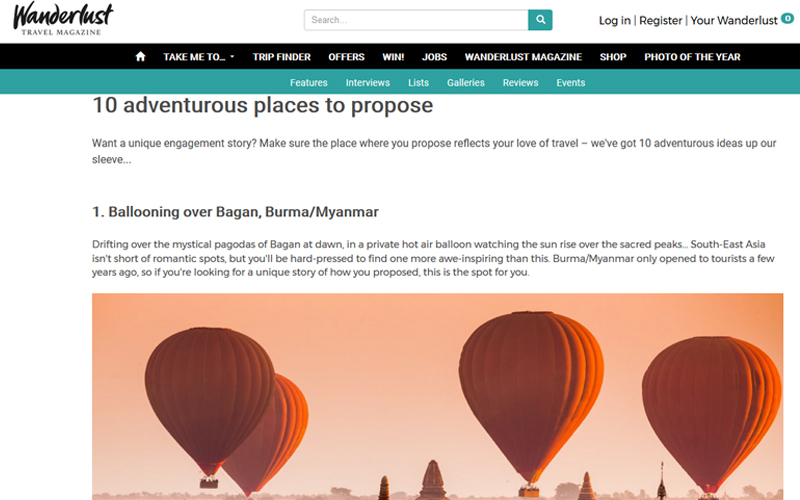 WANDERLUST UK - "10 ADVENTUROUS PLACES TO PROPOSE"
Drifting over the mystical pagodas of Bagan at dawn, in a private hot air balloon watching the sun rise over the sacred peaks… South-East Asia isn't short of romantic spots, but you'll be hard-pressed to find one more awe-inspiring than this. Burma/Myanmar only opened to tourists a few years ago, so if you're looking for a unique story of how you proposed, this is the spot for you.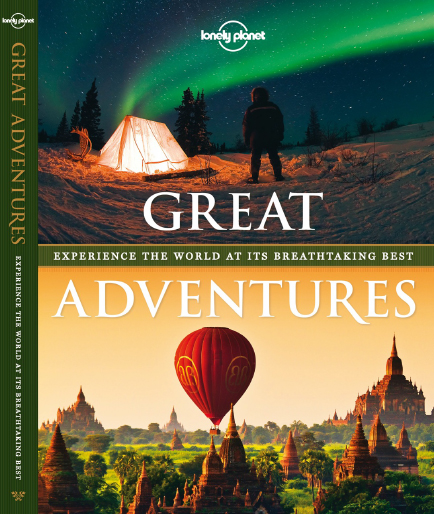 GREAT ADVENTURES - "EXPERIENCE THE WORLD AT ITS BREATHTAKING BEST"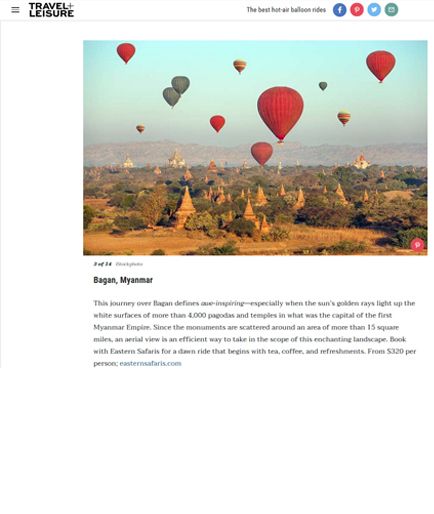 TRAVEL + LEISURE - "THE BEST HOT-AIR BALLOON RIDES"
Since the monuments are scattered around an area of more than 15 square miles, an aerial view is an efficient way to take in the scope of this enchanting landscape.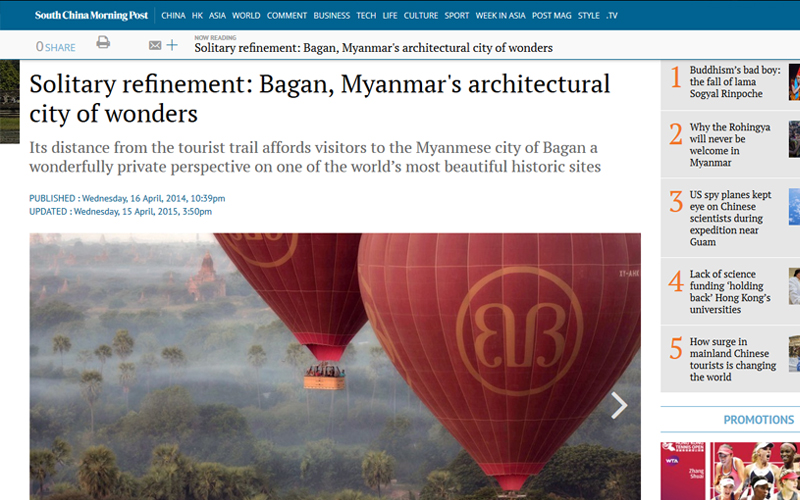 SOUTH CHINA MORNING POST - "SOLITARY REFINEMENT: BAGAN, MYANMAR'S ARCHITECTURAL CITY OF WONDERS"
Perhaps the best way to appreciate the sheer scale of Bagan's majestic archaeology is to take an early morning hot air balloon trip with local outfit Balloons over Bagan. Flights typically start at sunrise and last about an hour. Prices include hotel transfer and a light champagne breakfast. Some of the profits go towards local community projects.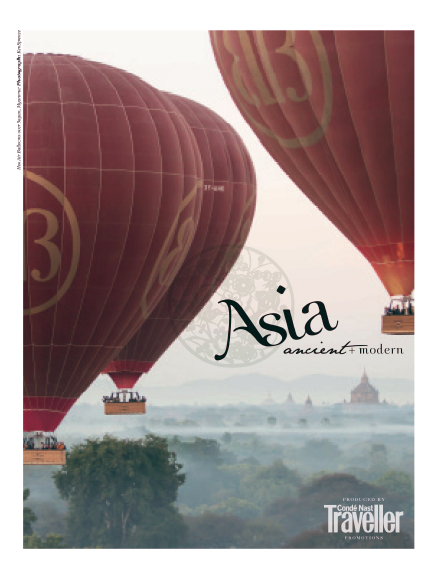 CONDE NAST TRAVELLER - "MYANMAR IS FAST-BECOMING A GOLDEN DESTINATION FOR ALL"
Bagan is integrated into most Myanmar tours, including Abercrombie & Kent's 11-day Burmese Heritage trip, which combines a starlight temple dinner at Bagan with an Ayeyarwaddy river cruise, the sites of Yangon, pagodas of Mandalay and tranquil Inle Lake, Balloons Over Bagan (balloonsoverbagan.com) drift their hot-air balloons daily above the Bagan ruins and Ayeyarwaddy Delta at sunrise.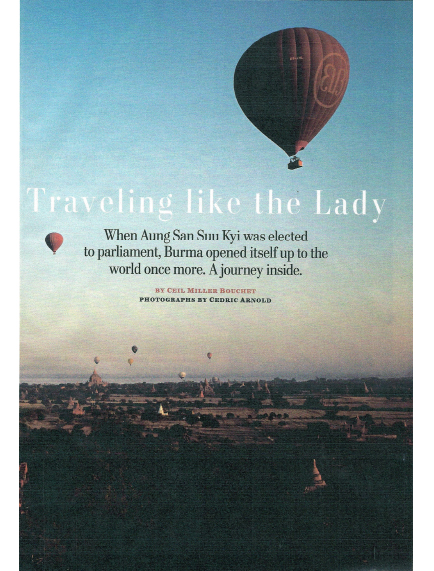 THE WASHINTON POST MAGAZINE - "CORPORATE SOCIAL RESPONSIBILITY IS PART OF BUDDHIST CULTURE"
Every major Asian capital has become a faceless forest of skyscrapers, Rudyard Kipling's words in "Letters From the East" still resonate: "This is Burma, and it will be quite unlike any land you know about."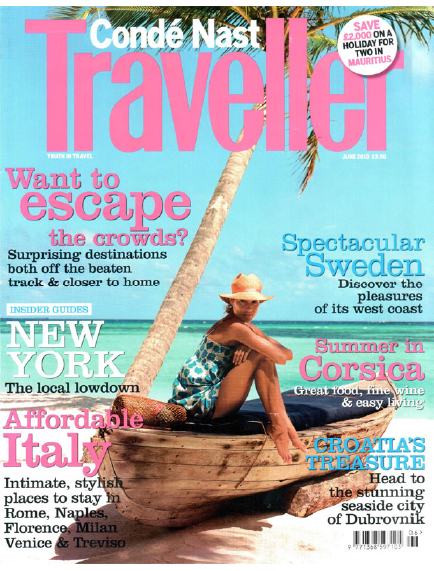 CONDE NAST TRAVELLER - "NOT JUST HOT AIR"
Some argue that tourism is of benefit to the Burmese people and should be encouraged despite the country's repressive regime. After a trip down the Irrawaddy River, Peter Popham agrees
DESTIN ASIAN - "UP UP AND AWAY"
The maroon-and-gold BALLOON casts a mamoth, moving shadow over the landscape: a patchwork quilt of wheat and mustard fields hemmed by rolling green hills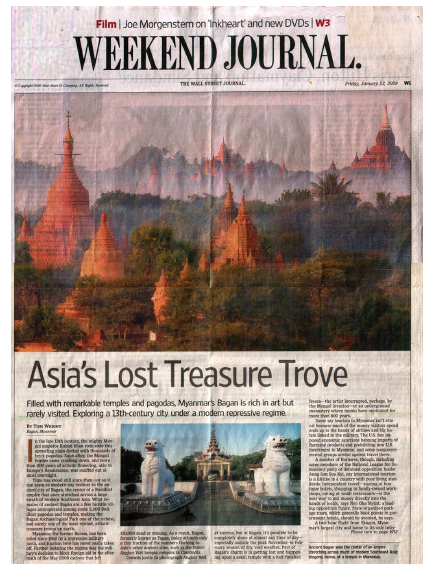 WEEKEND JOURNAL - "ASIA'S LOST TREASURE TROVE"
Filled with remarkable temples and pagodas, Myanmar's Bagan is rich in art but rarely visited. Exploring a 13th-century city under a modern repressive regime.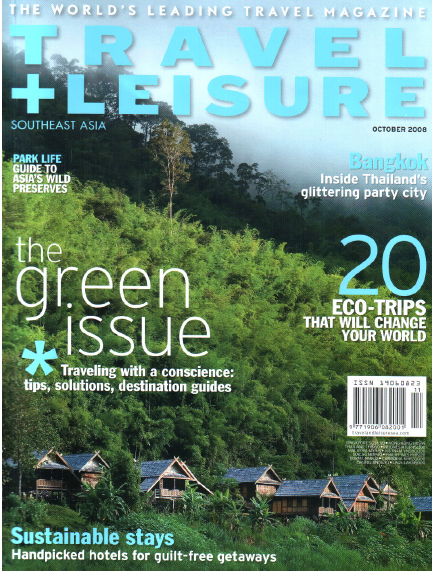 TRAVEL + LEISURE - "HELP YOUR NEIGHBOR"
After Cyclone Nargis wreaked its destruction in Burma in May, some of the first groups to mobilize aid were traavel companies such as Abercrombie & Kent and Balloons over Bagan. The tourism industry also raised tens of thousands of dollars from private donors, channeling it directly into communities or international nonprofits with extensive networks in Burma.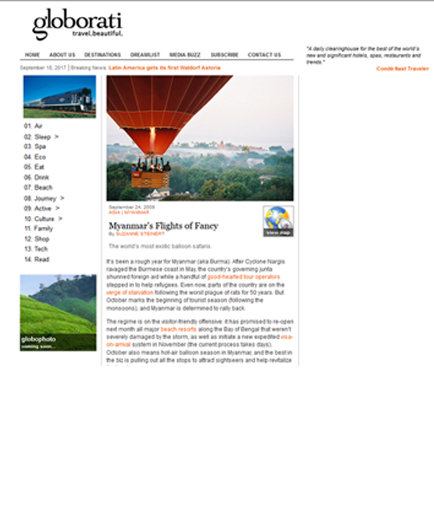 GLOBORATI - "MYANMAR'S FLIGHTS OF FANCY"
The country's ancient capital Bagan is home to the world's largest collection of Buddhist temples (2, 217 to be exact), forming some of the most spectacular views anywhere in Asia.
CONDE NAST TRAVELLER - "LOST HORIZON"
The Burma Campaign UK advocates a travel boycott of one of South-east Asia's most beautifful destinations. But Mark McCrum went to the country at the invitation of a Burmese friend